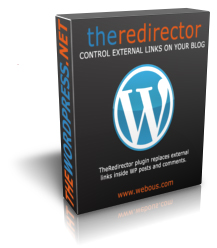 TheRedirector Plugin for WordPress back to main
Smart wordpress redirector for external links - plugin which lets you hide external links on your blog.

Plugin name: TheRedirector
Plugin version: 1.0.2
Price: $25.00 or 25WMZ order now
WordPress versions: from 2.8.4 to 4.8.3


WordPress plugin that replaces external links inside posts and comments, and keeps track of links that have been clicked. Allows blog owner to specify which links must stay external.

Quick navigation: Features — Installation — Options — Direct Links — Logging — Demo and screenshots — FAQ — Free Licences — License — Order — Contact



replaces external links in posts, comments, and RSS feeds
does not replace any links from "white-list"
does not replace particular link if specified by admin
allows to hide destination URLs
generates Search-Engine-Friendly URLs
logs hits on all replaced URLs
highly configurable
optimized code doesn't slow down WordPress
i18n support (already translated into: English, Russian)
ajax-rich statistics interfaces
source PHP code is not encrypted
Installation ↑ top
Installation is very easy and should not make any problems to blog owner with at least 1 successful plugin installation experience.
Unpack archive containing plugin and upload it to plugins directory of your WordPress installation. Please make sure to upload the whole 'theredirector' folder. You can rename the folder, but plugin files must stay in their own directory.
Open your wordpress dashboard and activate plugin via 'Manage Plugins' interface.
Now you have new item in 'Tools' menu. It's called 'TheRedirector' and you should go there to configure plugin (see options section).
TheRedirector plugin is highly configurable, and let's you change anything about how it works without modifying plugin source code. Click 'TheRedirector' link from 'Tools' menu to open Plugin options screen.
"Do not redirect links containing these words"

This list contains list of keywords, which are used as stopwords by the plugin: if URL contains any of these keywords, it will be skipped by the plugin and URL will remain intact. Enter one keyword per line.

"Hide destination URLs"

If this option is turned off, internal URLs generated by the plugin will contain destination URL so visitor may be able to cut it from the URL and open the destination page manually. If this option is turned on, all URLs generated by the plugin contain unique ID and destination page can be opened only via TheRedirector URL.

"Redirect links in RSS"

Turn this option on if you want plugin to replace URLs in RSS feeds syndicated by your blog.

"Redirect links in comments"

Turn this option on if you want plugin to replace URLs in comments posted by commentators of your blog.

"Generate search-engine-friendly redirection URLs"

Configure the look of URLs generated by the plugin. WordPress permalinks must be turned on for this option to work.

"Internal URL for redirection"

In case you decided to go with SEF-URLs, you should enter the name of virtual folder for redirection links.

"Log hits"

Turns click logging on.

"Maximum number of logs to store in database"

Limit the number of logs stored in the database to prevent big table and slower queries.

"Maximum number of days to store logs for"

Limit the age of logs stored in the database to prevent big table and slower queries.

"Number of logs per page"

How many logs to show per one stats page in dashboard.

"Delete all plugin settings and logs on deactivation"

If this option is turned on, plugin will clean all its data on deactivation.
Direct Links ↑ top
There are 2 ways to tell plugin not to touch an external link.
First way is using the global list of stopwords. This way is recommended for links to websites which you are going to link to regularly.
Second way is to type link protocol (HTTP:// or HTTPS://) in uppercase. All links with uppercase protocols are skipped by the plugin. This way lets you leave one particular link external without any need to configure anything - just start link with "HTTP" instead of "http".
You can turn logging on using plugin Options screen. Once this option is on, plugin will log all hits to its links and store the following info about every click:
time of the event
page where the link was clicked on
IP-address of the visitor who clicked the link
visitor's browser
Plugin will also calculate number of total hits for every URL. You can check plugin stats by clicking 'Statistics' link in the top of plugin options page.
If you don't want your database to grow too fast, you can limit the number of logs stored or time period the logs are store for.
You can also drop all current logs using "Purge statistics" form in the bottom of every stats page.
Please be careful with "drop all URLs" feature if you are using 'Hide destination URLs' option, it will reset IDs assigned to URLs, so all TheRedirector links syndicated outside your blog will stop working (or will redirect to wrong URLs).
Demo and screenshots ↑ top
TheRedirector is running on one of the most popular russian standalong blog apazhe.net.
Can I specify which links must stay external?

Yes, there are 2 ways of doing this: by entering global stopwords or by typing particular link protocol in uppercase like 'HTTP://'.

Can I limit size of logs stored?

Yes, you can limit both number of logs stored and maximum age of stored logs. If you want to keep all logs, disable both limits (store all, store forever).

Why number of hits is greater than actual hits shown on detailed page?

This may happen because some hits have been purged from the database (either automatially or manually).

What are requirements for SEF-URLs?

WordPress permalinks must be turned on.

I'm hiding destination URLs, is it possible that plugin will mess with them up?

As long as you are not purging URLs table, plugin will keep record of every URL generated.

How can I drop all logs?

Go to plugin statistics page and use 'purge logs' form.

I want to deactivate plugin temporary, will it save its data?

Plugin doesn't delete any data on deactivation by default; you can turn option for total cleanup on deactivation if you want to completely remove plugin from your blog.

How can I reach the plugin page?

Open your dashboard, click "Tools" menu, click "TheRedirector" link inside "Tools".

How can I reach plugin stats page?

Open plugin page, click "Statistics" link under plugin icon/title.

Can I see what plugin URLs will look like?

Yes, there is special link in the top of 'Options' screen called "Internal URL preview". Once you change any option the affects the URL structure, this link updates. This way you can play with settings to understand what they do.

Can I rename plugin folder?

Yes.

Do I need to manually edit .htaccess to make this plugin work?

No need to edit .htaccess for this plugin specifically, if you have permalinks working, then you are ok.

Is there any problems with encodings?

Well, yes. If you are posting link containing non-UTF8 characters, plugin will redirect it, but it may does not appear properly on stats page.
Free Licences ↑ top
There are two ways to get free TheRedirector license:
Help us with plugin localization — translate plugin itself and its short description into another language. Plugin is ready for translation by editing its .pot file.
Help us with plugin promotion — if you own popular blog, you can post (fair) review of this plugin there and put a backlink to this website.
If you are willing to help us in exchange for free license, please contact us.
You can use this software on any wordpress blog you own; you can not put it on any website for download; email it to your friends or share it in any other way. One license gives you unlimited PERSONAL USE ONLY. No exceptions. All forms of reproduction are strictly prohibited.
This software s distributed in the hope that it will be useful, but WITHOUT ANY WARRANTY, without even the implied warranty of MERCHANTABILITY or FITNESS FOR A PARTICULAR PURPOSE.
No need to buy extra license for every domain name.